QGIS
A Free and Open Source Geographic Information System
Create, edit, visualise, analyse and publish geospatial information on Windows, Mac, Linux, BSD (Android)
For your desktop, server, in your web browser and as developer libraries
QGIS is a user friendly Open Source Geographic Information System (GIS) licensed under the GNU General Public License. QGIS is an official project of the Open Source Geospatial Foundation (OSGeo). It runs on Linux, Unix, Mac OSX, Windows and Android and supports numerous vector, raster, and database formats and functionalities.
Supported by a Community of Programmers
QGIS is a volunteer driven project. Contributions to the project in the form of code contributions, bug fixes, bug reports, contributed documentation, advocacy and supporting other users on the mailing lists and gis.stackexchange.com.
Supported by International Sponsors and Donors
Office of Public Works, Ireland, Ireland (12.2014-12.2016) 
GAIA mbh, Germany (11.2015-11.2016) 
Sourcepole AG, Switzerland (10.2014-10.2016)
AGH University of Science and Technology, Poland (06.2015-06.2016)
State of Vorarlberg, Austria (03.2013-05.2016)  
Teaching Jobs with Footprints, Canada (04.2016-04-2017)
National Parks UK, United Kingdom (03.2016-03-2017)   
KBB Underground Technologies, Germany (03.2014-03.2017)
BGEO OPEN GIS, SL, Spain (03.2016-03-2017)   
Ager Technology, Spain (03.2014-03.2017)
Asociación Geoinnova, Spain (03.2016-03-2017)   
Gis3W, Italy (01.2014-01.2017)
GIS-Support, Poland (02.2015-03-2017)  
www.molitec.it, Italy (01.2014-03.2017)
Chartwell Consultants Ltd., Canada (03.2015-03.2017)
Trage Wegen vzw, Belgium (03.2015-03.2017)
GKG Kassel,(Dr.-Ing. Claas Leiner), Germany (03.2014-03.2017)   
CawdorForestry Resource Management, Scotland (02.2016-02.2017)
ChameleonJohn, USA (02.2016-02.2017)
2D3D.GIS, France (12.2015-12.2016)
Dr. Kerth + Lampe Geo-Infometric GmbH, Germany (12.2015-12.2016)
MappingGIS, Spain (11.2015-11.2016)
HostingFacts.com, Estonia (12.2015-12.2016)   
Urbsol, Australia (11.2014-11.2016)
Lutra Consulting, UK (10.2015-10.2016
WhereGroup GmbH & Co. KG, Germany (08.2015-08.2016)    
Nicholas Pearson Associates, UK (07.2015-07.2016)  
QGIS Polska, Poland (07.2015-07.2016)  
www.terrelogiche.com, Italy (06.2015-06.2016)  
www.geosynergy.com.au, Australia (05.2012-05.2013+06.2015-06-2016)
Gaia3D, Inc., South Korea (05.2015-05.2016)
Royal Borough of Windsor and Maidenhead, UK (04.2015-04.2016)
A Global Community of Users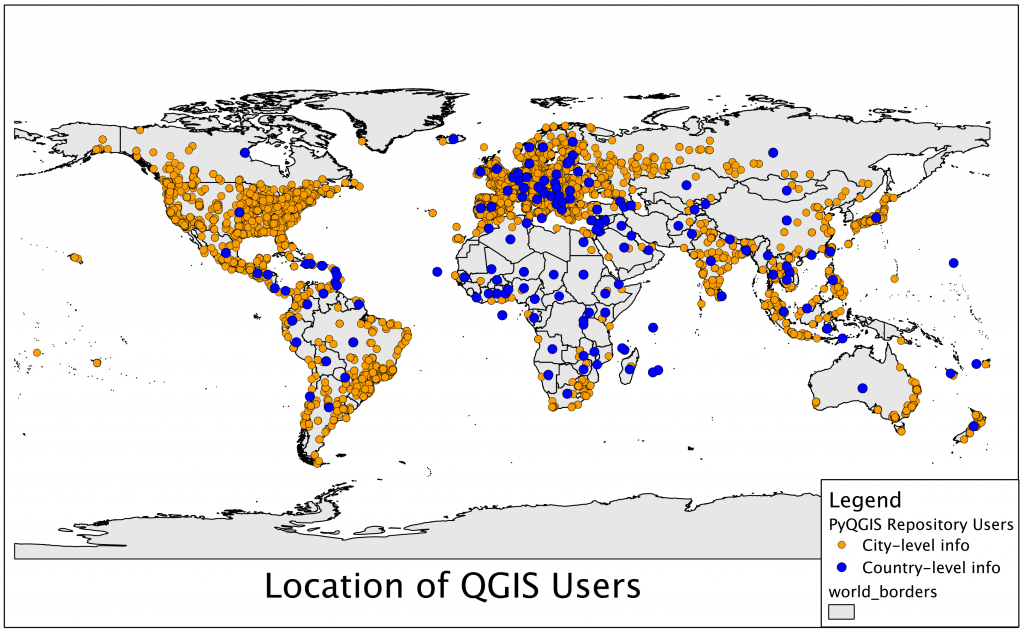 Map of users between Oct 23, 2011 and Dec 17, 2011 who downloaded the PyQGIS plugin.  Source
A Growing Community of User Groups
QGIS US User Group 
QGIS Australian & New Zealand User Group
QGIS UK User Group
QGIS Italy User Group
NIWA QGIS User Group
QGIS Portugal User Group 
Puget Sound QGIS
QGIS Switzerland User Group
Universities Who Use QGIS
This is a very small sampling of universities across the Globe who use QGIS
UNITED STATES
Columbia University
Cornell University
Duke University 
George Mason University
Harvard University  
Michigan State University 
University of Colorado 
University of Michigan
CANADA
Brock University
University of Toronto   
AFRICA
University of Cape Town  
ASIA
Nusa Cendana University, Indonesia
Padang State University, Indonesia  
EUROPE
Maynooth University, Ireland
Stockholm University, Sweden
University of Copenhagen, Denmark   
UNITED KINGDOM 
Newcastle University 
University of Leicester
University of Southampton
University of Sussex   
OCEANIA
University of Sydney, Australia